One of the best things about living in Paradise is the ability to get over to the other islands easily (and for little money). We snagged $29 fares and are hanging out on Kauai at the moment.
This is the view from where we are staying. That's the North Shore of Kauai. It is beautiful on this island. I have not been to the Big Island yet (should be going over Christmas) but Kauai is my favorite island so far.
Princess Trouble contemplating the universe.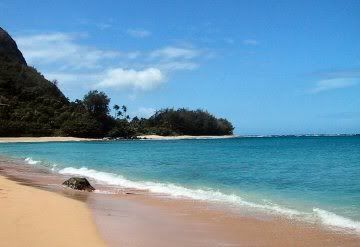 We spent Tuesday at Tunnels Beach on the North Shore. The snorkeling was incredible. From what I hear, it rivals Haunama Bay only not as crowded. We were able to hang out with 4 sea turtles, numerous Humuhumunukunukuapua'a, yellow tang, convict tang, parrot fish, and all sorts of other sea creatures. Princess Trouble is one hell of a snorkeler too! She pretty much ditched me and took off on her own.
Taking a break from snorkeling.
We miss you Daddy!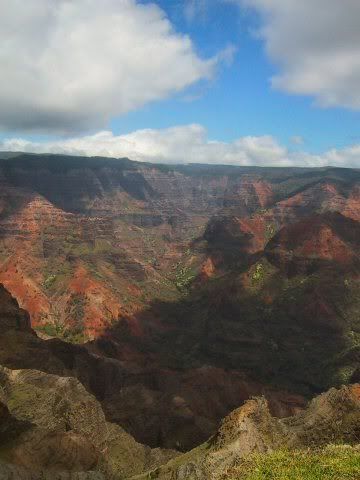 Today we headed up Waimea Canyon. Oh, my goodness it was gorgeous! The elevation gave it a completely different feel from the rest of the island. I could easily LIVE there!
This was as close as we could get to the Na Pali Coast. We had to hang around a bit for the fog to lift. It gave us a tease of a peek but that was enough!
We took the Nature Walk at the Visitor Center up the canyon. Here is Princess Trouble posing under a tree bridge.
Little Man spent the bulk of the day chasing the chickens and roosters around. In 1992, Hurricane Iniki roared through and destroyed several chicken farms. As a result, there are chickens EVERYWHERE. And I mean EVERYWHERE. Little Man had to have run at least a mile over the course of the day as he chased these birds around.
Some of you have griped that there aren't enough pictures of me. I disagree but I'll relent. This is all you get.
Tomorrow we're heading back to the North Shore for some more snorkeling. I have an underwater camera so hopefully I can get some shots of the life underwater.
Pau.
- hfs