It takes a lot to get me dressed up. I am decidedly "low maintenance" when it comes to clothing. My favorite outfit consists of denim Old Navy shorts and a t-shirt and slippahs if I need shoes. Thank goodness I live in Hawaii.
Saturday night was the "Hail and Farewell" for the outgoing commander's wife who is also our FRG (Family Readiness Group) leader. Saturday night was also "Parents' Night Out" at the child care center on post. Nice timing. Saturday was ALSO the day I bought a new blouse. Completely out of my realm of style but I liked the colors and the price was right (read: on sale!). So I grabbed it, thinking it would be a nice "going out" piece and perfect for the evening.
We ate at a local pasta place and I ordered the Garlic Steak (because, you know...what did you
expect
me to order at a pasta place?) which was quite yummy. I also ordered a Creme Brulee martini. Those of you who know me know that I rarely drink and when I do it tends to be at home because I hate paying $6.50 for a drink I can make on my own for less than $2. But it sounded yummy. And it was. It was a great evening though I am sad to see our commander's wife go. She's a sweet person with a heart of gold.
Nine times out of ten, on occasions such as this, I forget my camera. Not this time. AND I had the presence of mind to ask one of my friends to snap a picture of me. I am putting together some scrapbooks and it dawned on me how FEW photos I have of myself. I'm usually the one behind the camera. Hard to be IN the picture when you're taking it.
So, given the fact that all of these forces had combined into that point in time, I did something I rarely do which was ask my friend to take a picture of me. You'll notice I am wearing jeans. The only other times I get more dressed up than this is church, weddings, and military formals. So this is as good as it gets!
When I went to pick up the kiddos from Parents' Night Out, my daughter told me I looked "wonderful". I'll take it.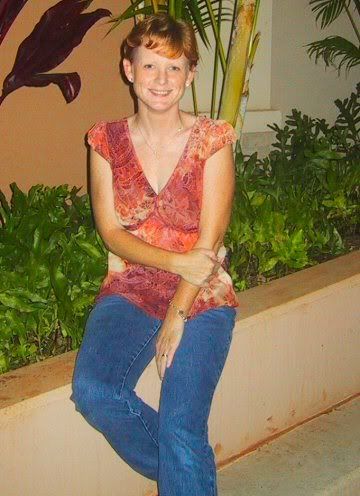 UPDATE:

Eric is stateside and on the mend. He has a bit of a long road ahead of him but he's alive and that's the most important thing. Thank you for your prayers and good thoughts. I'll keep you all posted.
Pau.
- hfs