The panic attacks seem to have subsided though I am most definitely still counting the days until I see my kids again. I still have no idea what triggered it all - they are in wonderful hands and are being spoiled rotten by grandparents, aunts, and uncles. Three and a half more days and they will be in my arms again.
In the mean time, Colorado is wonderful. Every time I come back here, I ask myself why we left. Damn Army. That's ok though - we
will
get back here. We're already starting to scope out job possibilities and places to live. Granted, we're talking a good 10 years down the road but, as I've seen in the first 10 years of my marriage, time flies when you're having fun and sooner than we know it, our time to move back will be here.
One of the first things we did after we got here was to take a trip on the
Ski Train
up to Winter Park. It was COLD but beautiful. We met some wonderful and interesting people including a man who was a Chaplain's assistant during the Vietnam War who now teaches at CU, a gentleman visiting from Montana, another from Australia who was going to both the Bronco's game and the Denver Nuggets' game and then on to New Orleans while here in the states. The conductor was a hoot as was our car host who played the harmonica. And we also met a gentleman who tunes pianos for a living. Little did I know they make $100 per hour!
Our train car.
We landed in Denver just minutes before Unite Airlines canceled 166 flights into and out of DIA due to a big snowstorm. This was followed by a strong cold front. BRR. It was 2* when we woke up the morning of our train trip and the temp at the top of the mountain in Winter Park when we got there was all of -15*. Thankfully, we did not ski.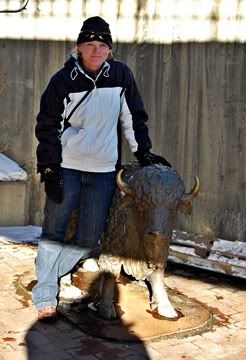 We tooled around the town of Winter Park for a bit and found a lovely buffalo to pose with me. Thankfully he wasn't as big as buffalo usually are. Nor was he very mobile.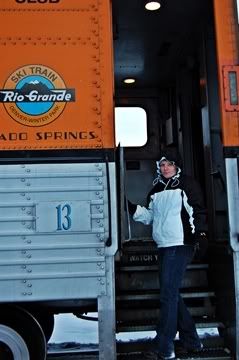 It was still really freaking cold when MacGyver asked me to stop for a picture. Needless to say, I wasn't very happy about it.
Union Station at night, lit up for the holidays.
Saturday night, we had reservations at our favorite restaurant,
The Flagstaff House
. They knew we were celebrating our 10 year anniversary and had our menus printed with "Happy Anniversary" at the top (which they then wrapped up for us to take home) and presented us with a wonderful tray of petit fours following desert. We were so full from all of the wonderful food that we had to wrap up the goodies to take back with us.
Sunday morning we rousted ourselves from our food-induced coma and headed off to meet up with several of MacGyver's fraternity brothers to tailgate before the Denver Broncos/Minnesota Vikings game. Thankfully, the Broncos decided to actually show up to this game and won, 22-19 though they had to rely on Jason Elam to save their sorry butts in overtime.
There were a few odd sights at the game, including "FroMan" and "The Walking Car Wash", below.
They looked like something out of a Muppets' nightmare.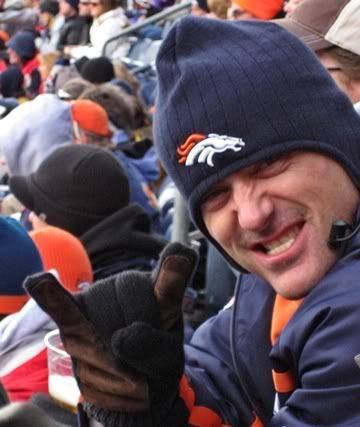 Yes, these are the people we went to college with.
We're giving the new Nikon D40 a workout. It was a great Christmas gift from MacGyver's parents. We still have a few days of our trip left and we're looking forward to driving up the Front Range and visiting old haunts. And maybe scoping out some property...
Pau.
- hfs