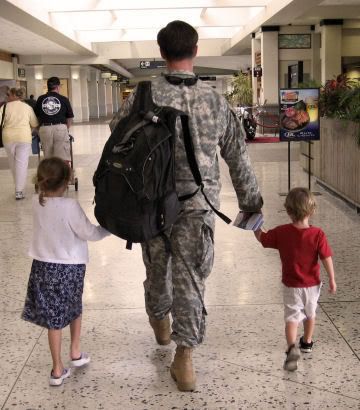 And as quickly as it arrived, R&R is over. The goodbye this time was just about as hard as the first time.
For two glorious weeks our house was a
home
. Now it is just a house again and I am left to try to fill that space and keep our focus elsewhere.
Last night it was incredibly difficult to go to bed. I didn't want to. I knew that, if I went to bed, I would be sleeping away precious hours of being awake and
knowing
that he was here, safe, with us. That our house was a home. Until I went to bed, his departure date was still "tomorrow". And I knew that when I woke up, it would be the day that he had to leave. Climbing the stairs last night was almost harder than actually saying goodbye tonight.
For two glorious weeks, I lived without that awful weight in my stomach. The weight that only other military spouses and parents of servicemembers can understand. That awful heavy feeling that you never manage to shake, even when you KNOW they are safe (or as safe as they can be over "there"). That weight that sits on your chest and in between your shoulder blades.
And now it's back.
Be safe, MacGyver. Come home soon. We love you and we miss you more than you'll ever know. moo.
Pau.
- hfs