The caveat comes first – I'm currently functioning on about an hour's sleep and cruising at about 35,000 feet over the Pacific. So my recollections are, um, fuzzy. Along with my tongue, for some reason.
Not that I'm hung over like
some people
, mind you. Just tired.
The easiest way for me to go about this is to work through it chronologically. So here we go…
I flew out on Thursday. Coming from my medium-sized-turd in-the-middle-of-the-Pacific-Ocean, it took about 16 hours of travel time. Because Delta had just emerged from bankruptcy, they were serving champagne. Along with the fact that I managed to score an entire 3-seat row to myself, it seems to be a great way to start off my trip! I downed that an 2 Excedrin PM and we were on our way! A nice layover in my hometown of SoCal, a few slices of California Pizza Kitchen pizza (hey, they don't have In-N-Out in the airport!) along with a chocolate shake from Hagen Daaz and we were back in the air. More sleep. Just what the doctor ordered. Another layover in Atlanta and then up to Baltimore. I opted not to rent a car which I think was a wise decision. I love the Metro.
When I was a senior in high school, I was able to go on the
Close Up
in DC trip with the rest of my class. A week in Washington, D.C. and it was incredible. Along with the monuments, the sights to be seen, and the activities, riding the Metro was one of my favorite things! Weird, I know. But it made getting around so easy. So this time around, I decided to Metro it the entire way. Thankfully you can do that from BWI. Cost me all of $5. Works for me!
I also chose to stay at the hotel where the conference was being held – the Westin Arlington. Home of the "Heavenly Bed" and Oh. My. Goodness. It IS! That was some of the best sleep I had all weekend. Oh, wait! It was the ONLY sleep I had all weekend! That's ok – I can sleep when I'm dead, right?
Matt had set up the "MilBlog Pre-Cocktail Reception Reception" ("Pre-Cock" anyone??) over at The Carpool so I got cleaned up and made my way on over. I must admit, I was a little hesitant/nervous/anxious about seeing everyone again. Not sure why. I just was. So I hung out outside for a bit and just kind of looked. Not sure what I was looking at or for. Finally I found my courage and headed inside. Thank God for
Matt
. A friendly face. And then MORE friendly faces – those of Teresa, Sgt. Hook, Carla, Buckethead, and many others that I am failing to recall. It was great. The Carpool is loud but it was a good place to meet and unwind before the reception.
The cocktail reception was a lot less formal than I had expected and I mostly did what I do best – sat back and "people watched". Quite interesting. I was able to spend time with all sorts of people – Jean, Carla, Rachelle, - and was able to drop of the gift I had for the
MOABS
.
The 2007 MilBloggies were presented and each winner received (via USAA who sponsored the awards) a new digital camera and a $1,000 donation to
Project Valour-IT
. THAT was cool. The buffet that the hotel had set up with tacos and such didn't really appeal to me so Jean and I ducked out and went across the street to P. F. Changs for dinner. Mmm…thai lettuce wraps. Then it was off to bed so that I was actually able to function at the conference the next morning. Funny thing was, being on Honolulu time, sleep was a little elusive. But the bed was heavenly! So was the LONG, HOT shower with the 2-headed shower head. Especially when I am not the one footing the water or electricity bill!
Thankfully there was a Starbucks INSIDE the hotel so the lack of sleep didn't really bother me the next morning. Jamie McIntyer, senior White House correspondent from CNN, was to be our Master of Ceremonies but he had some family business to attend to which was unfortunate but not a big deal. Everyone got settled in the conference room and Andi came up and opened things up. She talked about how, after last year's conference, the planning committee decided to do something "big" for the next one. They sent off a letter but it was more a "shot in the dark" and they didn't expect any results. But they got the results they were looking for and Andi introduced the President of the United States via video feed! It was entirely too freaking cool!
That's the best shot I could get. I was so blown away by the entire thing that I almost forgot I even HAD a camera!
The Panels went as follows :
Panel 1: From the Front
included
Bill Roggio
Sean from Doc in the Box
Sgt. Hook
Bill Ardolino
with
Matt
as moderator.
This was an incredible panel. The people on that panel are some of the bloggers/writers I most admire. To listen to them speak about life in Iraq and Afghanistan, life in the military, how things are truly going over there, the issues surrounding the mainstream media, etc. was almost as incredible as listening to the President speak. I have nothing but deep admiration for each and every man who was on that panel.
Panel 2
included:
Becky Davis
Carla from Some Soldier's Mom
ArmyWifeToddlerMom
and
Sarah from Trying to Grok
with
Andi
moderating.
This panel, too, was incredible. Carla talked about her son's struggle with PTSD and how she is working to help him and others. She also discussed how family members live in two worlds during a deployment and how that affects their lives. Rachelle talked about the handling of announcements when it came to extensions and how disrespectful and hurtful it has been to find these things out from the media as opposed to a regular Chain of Command. Sarah wrapped things up beautifully when she discussed the "anticipatory grief" that we live with each and every day of a deployment. I plan to do a separate post about this one - it really hit home with me.
To wrap up that panel, Andi invited Robert Stokely up to speak. If you do nothing else today please watch the video. This man whom I admire more than words can describe, is the epitome of grace and dignity and love.
Then it was off to lunch which was sponsored by Soldiers' Angels.
Chuck Ziegenfuss
headed up the guest speakers - all part of Project Valour-IT and Soldiers' Angels. For the first time, I was privileged to hear Chuck's story in its entirety. I knew what had happened when he was injured and during his recovery but I had never heard him speak on the positive impact that getting his hands (no pun intended) on his laptop and voice-recognition software had on his recovery from his injuries. I was once again reminded that Chuck is a helluva man, Carren (his wife) is a saint, and that
Project Valour-IT
is an incredibly worthy project. We're working on tracking down a video of Chuck's speech and when it is located, I will post it. It's another must-see.
Panel 3
, titled the "Rapid Fire Roundtable", followed lunch and included
LTC P
Murdoc
Noah Shachtman
Eagle1
Neptunus Lex
and
CPT Anthony Diess from CENTCOM
(nice boots, by the way CPT!)
with
John of Argghhh!
moderating.
Noah took a lot of hits because of his views on the MSM and how it reports the wars in Iraq and Afghanistan. While I do not agree with him on many points, his ideas are his own (big, in my book), and he does a pretty good job of trying to keep an open mind. The panel was actually a lot more reserved than I had hoped, especially with the new Army reg coming out about electronic communications and the impact(s) it will have on blogging. I was hoping that Lex would push Noah a little harder on his thoughts but it never went that far.
The final panel is one that I did not get a chance to live-blog. Panel 4 was entitled "Support: More Than Just a Bumper Sticker" and was moderated by
Chuck Z
. The panelists included:
Patti Patton-Bader
MaryAnn Phillips
Sandra Eden
and
Roxie Merritt
with
Chuck
as moderator.
Gateway Pundit
has the round up of this panel. I guess the lack of sleep was getting to me at that point and I almost forgot I had a computer in my hands at all.
All in all, the conference was incredible and I am already looking forward to the 2008 version. Seeing the President speak was worth the cost of admission alone!
But the fun did not end there. True to form, bloggers are a talkative bunch so we simply moved from the conference room to the bar/lounge downstairs. That's where the
REAL
fun began. A few mojitos (thanks Maggie! and Matt! and who ever else bought me a drink) and the world became even more interesting! Then we decided we were hungry so back to PF Chang's we went. I sat at a table with...
(to be continued tomorrow...it's midnight here and time to hit the sack!
Back now after a few more hours of sleep. One day I'll catch up on it. Maybe.
...
RSM
,
Tammi
, and
Teresa
. What a riot! I'm not sure who had the better fortune...Tammi or RSM. Either way, I about snorted lemon water out my nose (note to self: don't do that). After some sharing of lettuce wraps, fried rice, orange chicken, and some REALLY hot peppers, we joined the rest of our motley crue at the bar.
Princess Cat
was kind enough to introduce me to Kettle One and lime.
Thanks.
I think.
We hung out until they kicked us out (that would be the Royal "Wee") and then meandered over to the bar at the hotel with a smoke stop in the middle. No, I do not smoke. But
Chuck and Carren
do along with
Buckethead
and a few others. Chuck was his usual obnoxious, talkative self which I adore and it gave me more time to talk with Carren whom I also adore (more than Chuck, even). We finally got cold and went inside and closed down THAT bar. But not before I managed to talk
Lex
out of the keys to his car. He says he was ok to drive. I played the "my husband is deployed to Iraq and you're going to give me ONE MORE THING to stress about?" guilt trip and he gave them up.
He's so easy.
Somewhere in this bar, a stool was being used. Surprisingly, no one was injured in the making of this photo.
Later on,
FbL
,
Smash
, and a few others stumbled in (well, Smash didn't stumble) and we hung out with them until Fuzzy's body gave out on her and the bartender shut us down. We tried to get Lex a room but that didn't pan out and by the time we got all of that figured out, he had sobered up enough that he got his keys back.
I suck at goodbyes so we strung this one out as long as possible but then it was time for everyone to head home or back to their room. And, given the fact that I was taking the Metro back up to BWI for my 11am flight, I needed to get to packing. Notice I did *not* say "sleep" because the 2 hours or so I could have racked up wouldn't have been worth it. Besides, there were other...more
interesting
things to do.
The sun finally rose so I hit the "Heavenly Shower" one more time (damn, I'm going to miss that thing!) and then it was off to the Metro and to BWI. Quite the anti-climactic ending. Just the way I like them. Because I
SUCK
at them.
So there ya have it. My weekend in 5,000 words or less. Maybe.
Oh, yeah, there was a 3+ hour layover in SoCal so I called up my Godmother and she came and took me to get a burger. Life. Is. Good.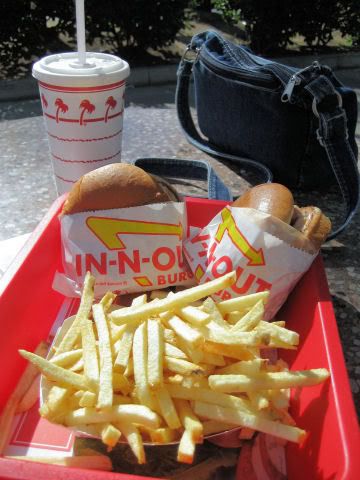 Heaven in a red plastic tray. I'm easy to please.
What did I learn this weekend? I learned that:
* you can learn a lot about a person by the way they treat their friends - online and in real life
* kindness goes a long way
* sometimes you meet the most fascinating people in the most interesting places
* tall people are a LOT of fun (I already knew that short people were since I am short!)
* not all squids are jerks but most can drink you under the table.
* my size 6 shoe fits nicely in my mouth. Often. Sorry Scott.
* sometimes you may not know the "why" behind things that happen but it is often the reason that life is as sweet as it is.
* that Irish accents are quite sexy
* that sometimes imagination is better (on a variety of levels) than reality.
(there is more but that is all my poor little tired brain is coming up with right now)
And I have some resolutions for next year's conference (
is it ok to make resolutions in May? Don't care.
)
* I WILL TAKE MORE PICTURES. Seriously. I took maybe 5. Last year I took NONE. So that's a 500% increase but still. Five? Sheesh.
* I will make more of an effort to go up and actually introduce myself to bloggers I have yet to meet. I spent too much time just people watching and not enough time actually meeting the people I admire. Gotta fix that.
* I will spend more time at the conference than I have the past 2 years. I'm usually in and out quickly but I'm finding that leaves a lot to be desired. So next year, I'm hoping to go early and spend some time tooling around D.C. and helping get things set up for the conference. And I plan to book a return flight late enough in the day to be able to actually attend the Sunday morning breakfast and actually say goodbye to these people that touched my heart.
* I will stay at the Westin again. That "Heavenly Bed" is incredible.
That's all for now, folks.
Pau.
- hfs