I really have nothing to say and my head is throbbing so I'll just post some pictures and then I'm off in search of a drill so that i can bore a hole into my sinuses and relieve some of the pressure. Ugh.
During our trip back to the mainland, I was able to hook up with 2 of my best friends from high school. We did not have nearly enough time that evening but the time we did have was great.
I believe this one is titled "Mojito Madness".
My Awana group at church has theme nights and one of them was "Crazy Hair Night". It's amazing what one can do with 1/2 of a can of Aqua Net! Funny thing is I was completely sober in this picture. Sure doesn't look it, does it?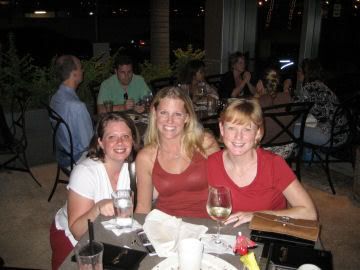 'Nifer, 'Ifer, and I at PF Chang's. That was a fun evening!
I got nothin'.
"The Girls". I need a haircut. I wasn't going for the "secretary look" but it seems that's what I wound up with. That weekend sure was a lot of fun!
And last, but not least...
NOONAN!!!
It's your fan club!
(h/t
Maggie
)
I'm off to go down some Sudafed and Robitussin and maybe even some more Motrin. Stupid cold.
Pau.
- hfs