UPDATE:
A friend forwarded me the following news articles:
Pace Meets with Families, Extended Soldiers

Pace Faces Tough Questions From Young Citizens (the questions these two kids asked, and the answers General Pace gave, brought the room to tears. Both were incredible.)
General Pace
, the Chairman of the Joint Chiefs of Staff, conducted a Town Hall meeting here today. Everything I have heard about the man was confirmed by what I saw today. He is a consummate
Marine
. He is professional, articulate, disciplined, and (amazingly) warm. The last quality surprised me. It seemed to be in contradiction to the rest of the image yet it fit perfectly.
He started off the meeting by thanking the families for their sacrifices and their service. He also thanked the soldiers that were in attendance. He discussed the same concept that
Sarah
articulated a while back - "anticipatory grief" - and the burden it adds to the stress of a deployment.
He then confessed to us that HE is responsible for the decision to extend deployments to 15 months. He discussed the route by which that decision was made. He talked about how, in 2006, the Pentagon was planning to downsize the number of brigades in Iraq to 12 or fewer but the bombing of the Golden Dome mosque brought about new violence. At that point, General Casey told him there was no way they could go below 15 brigades and there was a strong possibility that more would be needed. After doing the math (General Pace is a math man) he realized that the only way to meet those needs would be to increase deployments to 15 months.
After discussing a few other points regarding the extension, growing the Armed Forces, and such he opened the meeting up to questions. He offered up a coin to the first person chosen to ask a question and my hand was UP and my script was out.
My question was:
What are the incentives for an Army aviator to stay in past their original 6 year commitment while facing longer and more frequent deployments coupled with the fact that the amount of Aviation Continuation Pay offered by the Army is less than ONE HALF that of what the other branches of service offer?
A little
background information
:
Aviation Continuation Pay is is for pilots who remain on active duty after the end of their active-duty service commitment (in the Army, that tends to be a 6 year commitment).
For 2006, the maximum bonuses by service are:
•Air Force, $25,000 per year.
•Navy, $25,000 per year.
•Marine Corps, $18,000 per year.
•Army (for certain warrant officer pilots only), $12,000 per year; and $25,000 per year for special operations warrant officer pilots.
The Army is bleeding pilots, especially those with combat experience. Who wants to stay in the Army when all you have to look forward to are 15 month deployments with a 'supposed' guarantee of 12 months' dwell time (IF you stay with that unit. All bets are off if you PCS) AND crappy incentive pay? So I asked.
He had no immediate answer other than to tell me that he believed that incentive pay should be comparable across the services (I agree). He said he had never had that question posed to him before and tasked one of his assistant with tracking down a viable answer for me (said assistant took my contact information, gave me his name and contact information, and promised to get back with me by the end of the week.
So we will see. The coin he gave me is incredible.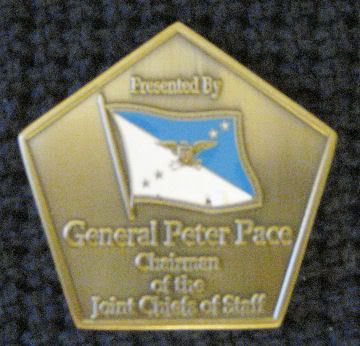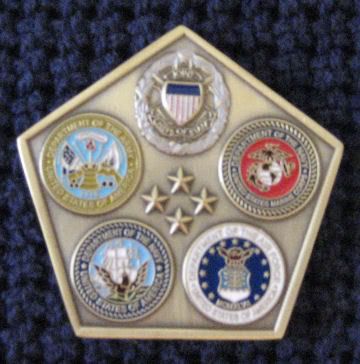 But it gets even BETTER.
After the meeting was over, General Pace was at the exit, shaking hands and thanking people for coming. As I walked up to shake his hand and thank him, I handed him the
Soldiers' Angels coin
that I had in my purse. He was shocked and he paused to look at it. He said that was one of the rare moments a spouse has ever given him a coin and he asked what Soldiers' Angels was. I briefly explained that Soldiers' Angels was a worldwide support organization dedicated to providing aid and comfort to the armed forces and their families. I had also handed him a thank you note that had the URL on it and he said that he would look it up as soon as he had a spare moment.
I don't know if he knew what Soldiers' Angels was or not but he seemed genuinely interested in it. Hopefully he looks into it further if he has not already done so.
I look forward to hearing from his staff about the ACP. I would love to see something come of this (preferably that the ACP for the Army goes UP, not that they bring the ACP for the other branches of service DOWN) but I am not holding my breath. Call me a cynical optimist.
Pau.
- hfs
P.S. Tim ~ I fixed it. Hope that makes the rest of your day bright.