Got a note from Soldiers' Angels the other day and they needed some help. Seems there was a need for blankets in Afghanistan and a hotel here on the island was willing to donate. But they needed to be picked up. I headed downtown and grabbed as many as I could...which totaled all of 6 as the boxes were not small.
Rather than make repeated trips downtown - because you know how expensive gas is, not to mention the fact that drivers downtown make my blood pressure go through the roof, I decided that renting a trailer would make much more sense. And it did - financially and logistically.
Thankfully, MacGyver has a wonderful commander who allowed him to take a little extra time on his lunch hour and head down with me (this was a blessing given the fact that I have no clue how to back a trailer and the parking lot at the hotel was SMALL). So we are now the proud foster parents of 24 boxes of blankets (10 per box...the boxes are those that mini fridges come in and weigh a good 40 pounds fully packed). I am also nursing a mean case of writers' cramp because filling out 30 Customs Forms for the USPS starts to hurt after about the first dozen or so. Of course, it wasn't until
AFTER
I finished those wonderful forms that I discovered you can do them up ONLINE. Grr. C'est la vie.
Now the challenge is getting said boxes from my house to the post office. See, I had to turn the trailer back in - UHaul is persnickety like that. So I'm left with my car which can handle 6 at a time, assuming I have no children with me (which is rare). And the idea of showing up with 24 boxes needing to be shipped to an APO address at the post office with no warning seems...foolish. So tomorrow I shall head down to the local post office and talk with the manager and see if there is a way to set this up so that I do not have to make 4 different trips or rent another trailer and then haul all 24 boxes into the lobby. Talk about a pain.
We shall see. My hope is that I can set up an "appointment" with them, have 3 or 4 friends (with SUVs, minivans, or pickup trucks) help me ferry the boxes over, and get it all done in one fell swoop. We shall see.
Of course, by the time these things get to Afghanistan, their winter will be winding down. Hopefully they can use them in the coming winters.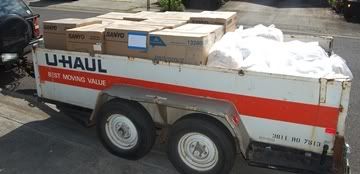 Pau.
- hfs