Went up to Waiamea Beach this morning with friends from church. A bunch of "my" kids (the kids I work with at church) convinced me to climb up The Rock and jump off. It's a LONG way down, let me tell you. Best way to clean out your sinuses - that's fo' sho! I thought I was going to hurl the first time I did it and I shook from the adrenalin rush for a while after I jumped.
The second time wasn't quite as never wracking and I managed to actually jump out away from the rock more this time (the first time I jumped, I didn't jump out). Definitely a rush!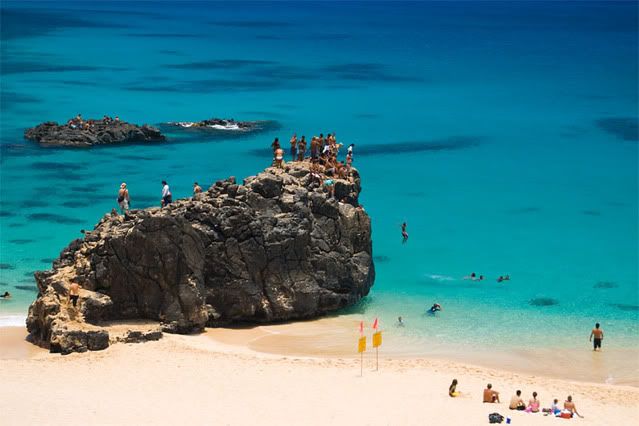 Photo courtesy of
Digital Apoptosis
.
Photo courtesy of
PortAloha.com
.
The sign reads :
"Jumping diving can cause serious bodily injury or death. For your safety please stay off rock."
Yeaaaah. The way I see it, if I can work up the courage to jump off that rock, I can handle my first subbing job tomorrow, right?
We also snorkeled while we were there and were able to see several
Humuhumunukunukuapua'a
(otherwise known as a Reef Triggerfish) and even a honu (turtle)! Then it was off to
Aoki's
for shave ice. YUM!
Good way to start the day!
Pau.
- hfs