I was reminded today (thanks, Pogue!) that I had promised pictures from Army Ball. Here are the two (out of 500+) that were taken that night that I deem appropriate.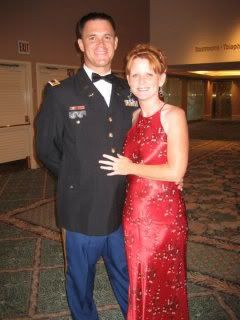 Me and MacGyver. We clean up pretty well. And this dress is one of my favorites - for a variety of reasons...not the least of which is that this was a Thrift Store find for $8.99!
Some of my favorite people. The majority of the people I was with have loved ones currently deployed. MacGyver was the "male chaperone" of the evening - he showed up with seven women! Lucky man!
All in all, it was a wonderful evening, though bittersweet. More than likely this was our last Army ball and that makes me sad. Even though I'm quite a tomboy at heart, I love to get dressed up (and see my man dressed up) and spend the evening dancing and having a blast with wonderful friends. And you can't beat a room full of good looking men in uniform! I will miss it.
Still no news. While we wait for word, we are exploring civilian employment options (basically, anything with "CH-47" in the job description gets a resume thrown at it) and that is looking cautiously promising. I don't want to get my hopes up too high - I've had them crushed more often than I care to count lately - but the situation does not look to be as dire as we had feared. But, until things are settled with the Army, we remain in limbo. Which is ok.
In an unrelated conversation, I was remarking to a friend that I was content to wait for something (don't remember what it was that was being discussed) and that I am can be patient when necessary. And then I laughed - just as those of you who know me in real life are probably laughing right now! But it's true - if I've learned anything in the past year of my life, it's how to be patient. And that is no small feat!
Right now, my biggest hope is that we are able to remain on island to see MacGyver's fellow Hookers make it back from the Sandbox. We saw them off. We'd like to welcome them home.
In the meantime, we wait and we pray. There is still hope that a decision will be made that allows us to remain a military family. It's unlikely but still possible.
Pau.
- hfs